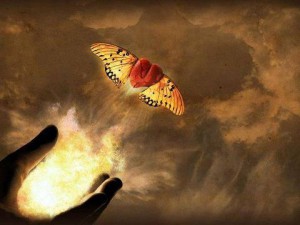 A co-creation of sacred live music, poetic dance meditation and a singing/mantra circle takes you into a magical HeartBeat Journey – guided by Caroline S'Jegers and Surya – who will join us with a diversity of instruments, including mouth harp, flute, didgeridoo and drums.
We invite you to enter a space of pure and divine connection. A space in which music takes you on a journey through softness, clarity and vulnerability. A space in which you are free to sing along, share your full potential and celebrate life to the fullest. A space in which expression plays along with words and voice. A space in which we encourage to dance and move with, through and around yourself, your divine body and others.
This evening will be filled with joy, intimacy, connection and relaxation. While entering the space, we softly welcome you with soulful vibrations. From here, we take you on a guided meditation through voice and poetry. Live music will guide you along the way on this intimate journey of expansion and connection. From here, we sing mantras together as a way of celebrating life. We end the evening in a circle of sharing.
"So I will always lean my heart as close to your soul as I can." (Hafiz)
❧❧❧❧❧❧❧❧❧❧❧❧❧
DATE: 30 September 2015 with Caroline S'Jegers and Maarten Adriaenssens (Surya) – from 19h30-22h (please be on time!)
PRICE: 20 euro
LOCATION: De Weegbree, Hoogstraat 64, 2861 Onze-lieve-vrouw-waver (www.deweegbree.be)
REGISTRATION only by sending an email to Caroline: contact@carolinesjegers.com.
❧❧❧❧❧❧❧❧❧❧❧❧❧
FACILITATORS:
❧ Caroline S'Jegers
To dance is to be alive. Caroline is the co-organizer, Dj and dance facilitator of Ecstatic Dance Belgium and works as a Dj for a diversity of events. She has been traveling around the world in order to expand her vision and art. Caroline gives personal coachings and healings – making use of her diversity of practices, such as Yoga, dance and contact improvisation. Through these practices, she also learned to embody that play, awareness and breath are keys to re-creating a life full of beauty and pleasure. Caroline invites you.. to journey and be moved!www.carolinesjegers.com
❧ Surya (Maarten Adriaenssens/Sankalpa)
Maarten is a shaman of healing sounds. For many years, he studied holistic healing methods. For him, sharing his love for overtones in instruments and voice is like sharing the vibrations of the entire universe! Surya, who was born late 2013, aims to bring people closer to the Source. He believes Sound Consciousness is an essential part of our development on this new earth! He is happy to contribute to this awareness movement, which leads us to a happier and more loving life.www.suryasoundhealing.be
❧❧❧❧❧❧❧❧❧❧❧❧❧
More info: http://www.carolinesjegers.com/heartbeat-journey/